How to make Greek baklava: This is an easy Greek baklava recipe with only a few simple steps that will have you making that fresh, super delicious pastry right in your own kitchen!!!! There are so many different versions so I just took the parts of several recipes I found and made my own. It has the perfect balance of sweetness, with the lemon countering the honey. It is amazing, definitely a reader favorite and you all are gonna love it.
HOW TO MAKE GREEK BAKLAVA:
Now, I always start with syrup because it needs time to cool. Combine 3/4 cup water, 1 cup sugar, 1/2 a cup of honey, and 2 tablespoons of lemon juice. Bring that to a boil and once the sugar melts, reduce the heat and simmer for 4 minutes. Take it off the heat and set it aside.
Finely chop 1 pound of walnuts or pulse them 10 times in a food processor. Add 1
TSP of cinnamon and stir to combine. I have a 1 pound box of store-bought
phyllo dough. Thaw according to package instructions then leave it at room
temperature for 1 hour before working with the dough.
Trim the dough to fit your baking pan. Now you'll need a damp but not wet kitchen towel to keep the pastry covered at all times because it can dry out quickly. Butter your baking pan then start layering your first 10 pastry sheets, buttering each one as it goes into the pan.
Also now's a great time to preheat your oven to 325˚F. I'll be the first to admit, buttering the sheets is a little tedious but it's still worth it in the end. Once the first 10 sheets are in, sprinkle 3/4 cup of your nut mixture evenly over the top.
You may also be interested in these:
Now add five more phyllo sheets, buttering each one, then 3/4 cup of the nut mixture and repeat that process of five sheets and nuts four times. Finally, we top it with our last 10 sheets of phyllo dough, again buttering each one. cut the baklava into four rows, then
slice diagonally, to create beautiful diamond-shaped pieces. Bake these in the center of your oven at 325˚F for an hour and 15 minutes.
Just as soon as the baklava is out of the oven, spoon your cooled syrup over the hot pastry. It will sizzle as it absorbs the syrup. Now it's important to let the baklava sit for 4 to 6 hours or overnight at room temperature for the syrup to penetrate and soften the layers.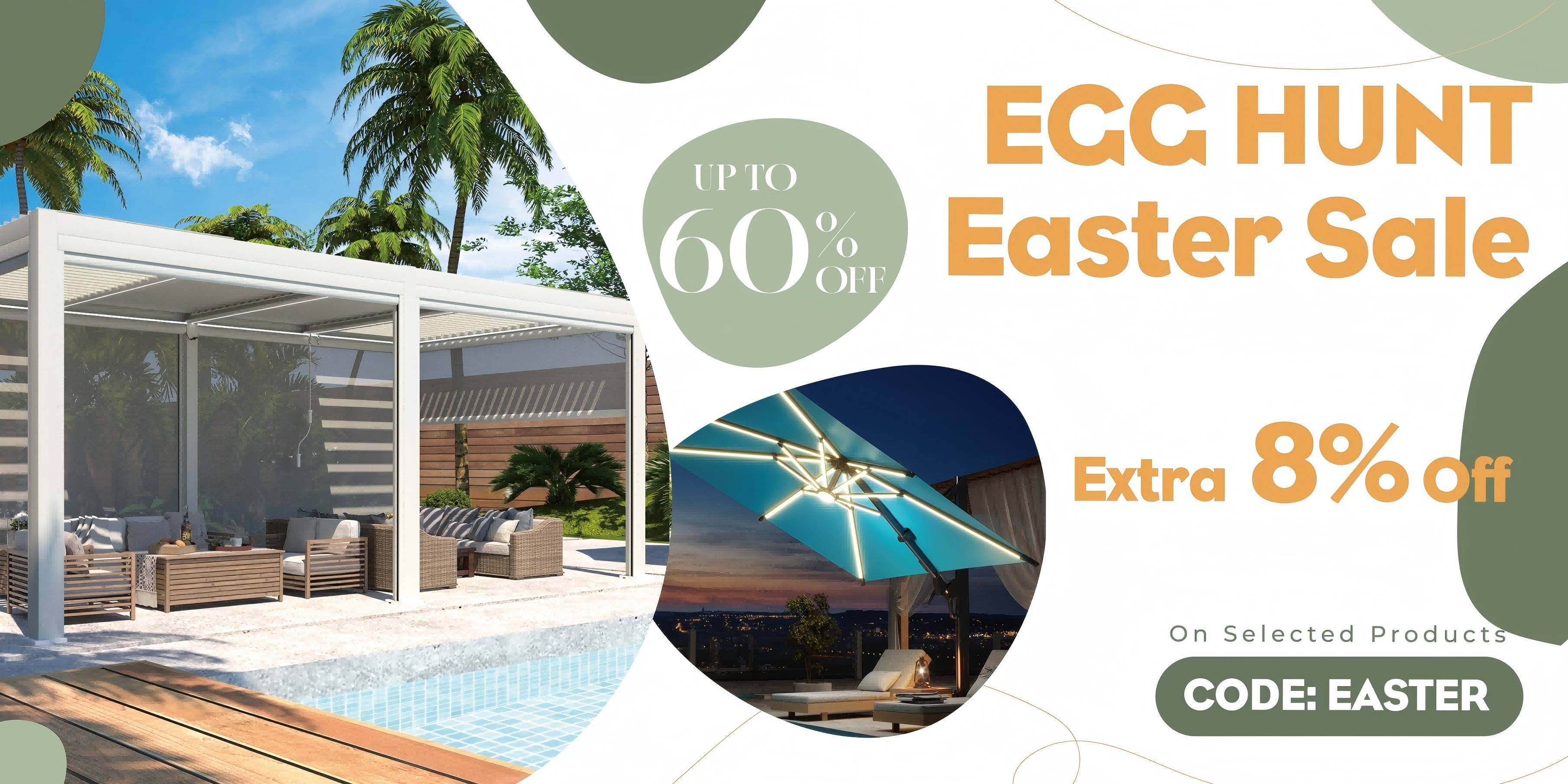 Join Our Email List For The Latest Updates!
No Spam Guaranteed
Free Shipping on all Erommy Outdoor Orders!
Shop Best-Selling Erommy Hardtop Gazebos!
Shop Backyard Patio Heaters at Erommy Outdoors
INGREDIENTS:
1 box phyllo dough 16 oz.
3/4 cup white sugar
1/4 cup brown sugar
2 T fresh lemon juice
3/4 cup water
1/2 good quality honey
2 sticks of melted butter
4-5 cups roasted walnuts and pistachios
1 tsp cinnamon
1 tsp vanilla
INSTRUCTIONS:
1 ) In a medium sauce pan: Add water, sugars, cinnamon, lemon juice and honey. Bring to a boil and then set aside to cool. When cooled add the vanilla. Add the roasted walnuts and pistachios to a bowl and add a heaping Tablespoon of cinnamon and mix it all together.
2 ) I used a 9×13 pan and buttered it liberally. Then layer 10 sheets of phyllo dough buttering each layer in between. At the 10th layer add butter then cover that layer with the walnut/pistachio cinnamon mixture.
3 ) Then layer 5 more sheets and then the walnut mixture, repeat until you end up with 10 layered sheets on top. I grated some lemon zest in between a few layers of dough. Cut your dough into diamond shapes BEFORE you bake. Bake at 325 for 1 hour 15 minutes or so.. depending on your oven.
4 ) As soon as you take the Baklava out of the oven pour the honey sugar mixture over the entire baked Baklava. It will spread down into the cracks where you cut into it earlier. You should let it sit overnight or at least 8 hours before eating. It gives the honey mixture time to be soaked up.
TIP: When you're serving it for a crowd, it looks beautiful if you drizzle the top with chocolate and sprinkle on more nuts.
CLICK ON THE NEXT BUTTON FOR MORE...!