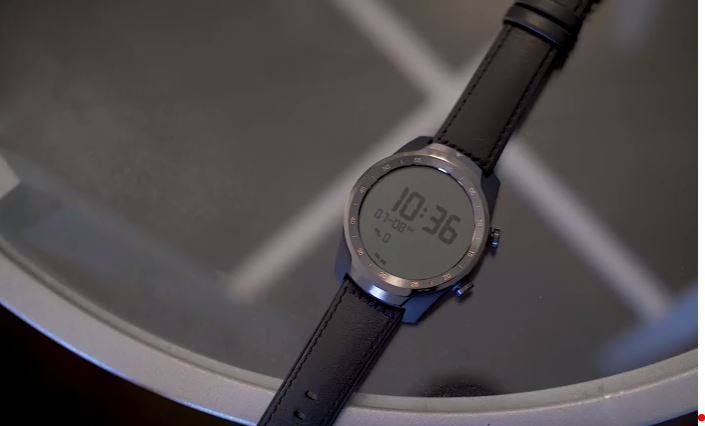 The Ticwatch pro is the latest iteration in a line of smartwatches that you might already be familiar with. it relies heavily on Android wear, or what is now called wear OS by Google and in that regard the wear OS experience, the software experience, is largely the same one compared to other wear OS devices. and that's what we will try to give you a close idea about In this ticwatch pro review.
Starting off with the design, the watch does look a bit beefy and there is a silver edition and the black design. the watch strap that comes with the ticwatch Pro, is pretty awesome. actually, because the top portion is a leather like material that gives it an executive look, it feels like a sport watch. because the bottom portion has a breathable synthetic. the only problem with the watch strap was that it is just a bit too thin, which made the watch face look even bigger. fortunately, it is changing the watch strap is as easy, as clicking the space button on your laptop keyboard, and it will get you the job done.
The Ticwatch Pro has two large buttons on the side, one of them at the top is the main power button that also gets you to the app drawer, and then the bottom button can be programmed with a shortcut. and you can just use that bottom one to open up the timer so that you can go easily.
Of course, there are a ton of applications that you can get in the wear OS Play Store, and you can get companion applications for all of the things you might already have in the connected smartphone.
You can track your sleep using sleep as Android, and then, of course, you are able to use other applications for media like google play music and Spotify through which you can use the Wi-Fi connection on the watch to stream your music.
There's also 4 gigabytes of on-board storage so that you can move some local music files onto the watch and be able to stream it straight from there. so you don't always have to have the smart phone on you but admittedly this is not a feature that I use very often all of the sensors and connections you would want on a typical premium wear OS device are there, including a heart rate sensor and NFC for things like google pay.
Ticwatch pro review: Design.
the watch body has an ip68 rating which means that it can really go up against the elements. so why is the watch body beefy? well, the reason why is because there's actually a lot going on underneath the surface. you would normally get on any other wear OS devices.
A 1.4 inch 400 by 400 OLED display, which is what you get as a smart mode. but then there is a whole another screen that is layered on top of that, which is an LCD display that you can use for simply using this as a watch. when that secondary display is being used, it is in what is called the essential mode, where you only get the time, the date you get a step counter still even in that mode. And if you use the bottom button. While in an essential mode, you can trigger the heart rate sensor.
The essential mode LCD display is one that kind of looks like a throwback, it's like a retro watch and it's something that you can use either all the time, by going into an essential mode, or you can use it as a way of prolonging the battery life. one of the main ways of doing this is by using wear OS normally and by using the ambient display.
However, once the watch gets down to about 20% maybe 15%, it goes into the power saving mode instead of going to this ambient display. it's just going to use the essential mode, to really stretch out the battery life. of course you can manually trigger the essential modes that you can be in there as much as you want, and that way you can keep the smart mode available whenever you need it.
You can also, turn up all of the gestures, so when You lift up the watch, it's not going to trigger the smart mode. and You'll be able to get into the OS by pressing the top button, while still using the ambient display. but then once You hit the power saving mode, the essential mode is what you'll be using as an always-on display, and it might be one of the best always-on displays that you can find on a SmartWatch.
Now if you wanted to get even more out of the 415 milliamp-hour battery units, then you would turn off the ambient display, and just use the essential mode as the idle mode.
and my favorite term to call the ticwatch Pro, has been shapeshifter you can be a straight-up SmartWatch user and use the smart mode all of the time maybe get about two days worth of battery life, and use your applications to their fullest, or it can be a more casual SmartWatch user by using it as a Notification Center.
Just as a way for you to know if you have to look at your smart phone in that case you might get about three days of battery life, or you could go extremely on the other side, and just use this as a sports tracker with the smart mode available if you want to use it, and you still get just those essential things that you need out of a watch. and it's in that mode that you can go for as far as 30 days of battery life.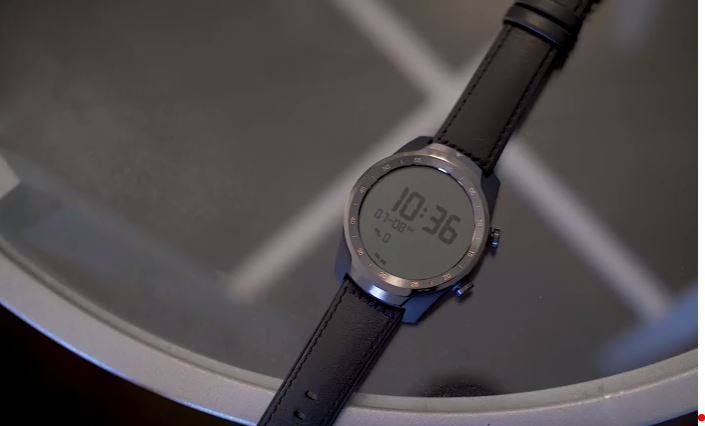 READ ALSO: Galaxy watch Review
So it's because of that, the battery life on this particular watch has been sublime. it's the best battery life I've ever seen on any wear OS, or Android wear device. and on average when using the smart mode, You'll be able to get between two, and three days of battery life. and you could even stretch that out more if You keep the essential mode as your always-on display.
There are a few things that I wish were a bit different. however, I do wish that the charging dock was more of a wireless dock and that it lifted up the watch that you could still use it as a bedside table clock. and I also think that there's a bit of a slowdown, when doing the hand-off from the essential mode into the smart mode if You're starting off in the essential mode.
Also, getting into Google assistant by holding the top button, takes a little while for Google assistant to warm up. anyway, to have a watch that can go from 2 days – to 30 days of battery life, depending on how you use it and what your priorities are, that makes the Ticwatch Pro probably one of the best wear OS devices that we've seen.
The ticwatch Pro is probably the most full-featured wear OS device you can find right now. Because of that LCD display, and it comes in at $249 which is actually a good price considering everything that you're able to do with it. and it also comes in at a lower price point than what is considered a premium tier wear OS device, like the LG watch sport.
At the end thanks for being here, and I hope this ticwatch pro review was helpful to you if it not please let me know what is wrong with it.
<<<check the latest price of TicWatch Pro>>>
CLICK ON THE NEXT BUTTON FOR MORE...!