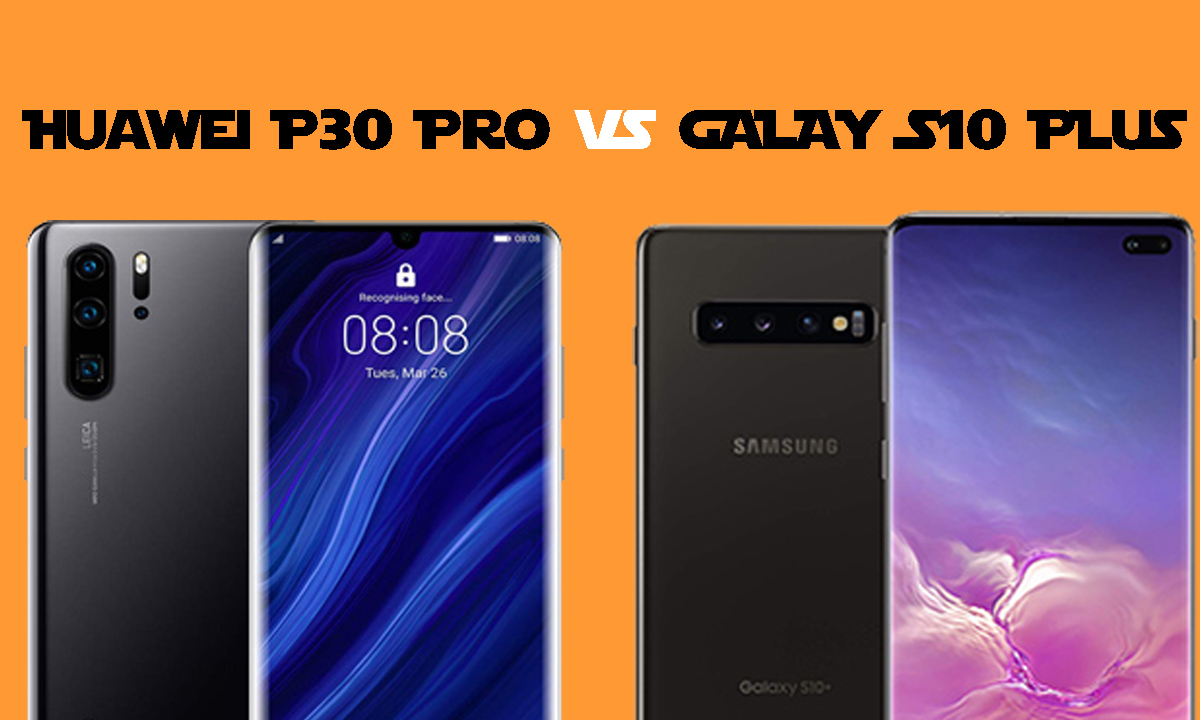 Huawei P30 Pro vs Samsung Galaxy S10 Plus: So, if you're buying a smartphone in 2019 and you want the best possible one, you're probably looking at the galaxy S10 Plus and the Huawei P30 Pro.
The galaxy S10 plus has a fresh new design, they've thinned out the bezels and instead of using a notch like other smart phones, they're using a camera cutout in the top right hand corner. The P30 Pro in the other hand has very similar bezel sizes, but the difference is instead of a cutout they're using a notch on the top.
Now, in terms of form factor they're pretty much the exact same size the only difference is that the p30 Pro is slightly taller. The two biggest smartphone releases this year together in one frame and with so many similar things, but there is something that separates them together.
Both devices share the same storage and RAM memory, with 128 gigs of expandable storage and 8 gigabytes of RAM. And to get one thing all the way, they're both pretty similar feeling phones.
The quad way is a little bulkier, but both do a really good job of curving in a way that makes them feel comfortable to grip.
They even share the same a prismatic finish that reflects warmer colors; although, I do like how the p30 pro has the option for a gradient surface on the back.
And in the other side, I see that the S10 Plus display looks so much more elegant, beautiful and vibrant.
Samsung's smaller camera bump is nice; though, it not only means the phone fits a little better in your pocket, but also makes it more balanced when it's on a flat surface.
You'll notice that the Huawei has just that little bit of wobble, also Samsung has a headphone jack. It is nice to see that both devices are IP 68 rated against water and dust, and that they both support fast wireless charging, as well as the ability to wirelessly reverse charge other devices.
Display: When it comes to displays, though, the Galaxy S 10 plus is just so far ahead. They're both similarly sized OLED panels with an almost identical curvature on the sides, but whilst the p30 pro has a respectable full HD plus resolution, the S10 plus has roughly twice as many pixels on its screen.
Notch: When it comes to the notches Huawei has stuck to what they know with this water-drop notch in the middle on the top screen, which isn't bad at all as far as notches go.
Samsung Galaxy S10 Plus has a hole punch that got the screen all the way around it, which makes the interruption a little easier to filter out when you're watching video or playing Games.
Security & Locking: It looks like both companies follow the same philosophy, even in the security aspect; because, they've made the same changes. Samsung have ditched the iris scanner they used to have on past phones. And Huawei has skipped the 3D facial recognition we saw on last year's Mate 20 Pro, even though, it was really great.
Anyways, that leaves us with fingerprint scanners as the only fast and reliable way to unlock any of these handsets. And whilst this is the best fingerprint scanner Huawei has ever put on a smartphone, Samsung takes it this time round by using an ultrasonic in-display scanner, which is faster and requires less force to unlock the phone.
Audio Quality: the audio quality is really important, if you use your phone to watch movies and listen to music. And thankfully the p30 pro has a good speaker, but the way they've designed the earpiece to just kind of sit below the glass, means that its volume can't keep parity with the main speaker, so you're just getting a single speaker set up.
And if you compare that to S10 Plus's dual speaker Dolby Atmos system, it's just not the same. While his new earpiece design should mean, no sound leakage and maintain privacy when you're on a call. So, only you can hear what the other person is saying.
<<Shop Samsung Galaxy S10Plus at Amazon.com
GO TO NEXT PAGE FOR SOFTWARE AND CAMERAS COMPARISON!
CLICK ON THE NEXT BUTTON FOR MORE...!