If you love cannoli shells and have always wanted to make them at home, then this post is for you. And if you like this recipe, don't forget to share it with friends using our share buttons below this post and join our Facebook group here for more…
First thing we're gonna do is drain the ricotta. You don't wanna have a lot of liquid making your cannoli mushy. You want them to be really crisp on the outside. I'm using a cheesecloth with a strainer to get all the excess water out of this. If you don't have that, you can spread this out on a counter with paper towels and blot it dry.
Wrap it in your cheesecloth over the strainer, and then leave it in the fridge for a few hours. While the ricotta is draining you can now make your cannoli dough. This has a similar texture to pasta dough once it's done.
So just be aware of that. It's not like you're making cake batter. Two cups of all-purpose flour into the bowl of your food processor. You could do this by hand as well if you don't have a food processor. 1/4 teaspoon of salt and 2Tbsps of granulated sugar. We're gonna whiz this up to combine the ingredients and pulse to combine.
After your dry ingredients are combined, go ahead and add 2Tbsp of unsalted butter that's been cut into little cubes. Pulse once more until it has a rough form, crumbly mixture. Now you need two egg yolks reserving the whites for later, although you won't need all of them. The yolks are gonna go in right now.
After the two yolks go into your food processor, Add about 1Tbsp of vinegar 1/2 cup of grape juice or as needed. the reason why adding vinegar is that when you fry the cannoli, it's vinegar that's gonna cause it to bubble up and have that characteristic light, crisp texture. Pulse until you get a mixture that starts coming together.
You wanna have something more like pasta dough, so if you see it looks like a wet pastry dough, where it's silky and smooth. This means you have to knead it. And to do that, lightly flour your surface and knead it for 5 to 10 minutes until it's nice and silky smooth.
It might be a little bit less. It might be a little bit more. Probably a bit less. once the dough is so much smoother now. If press in it, and it bounces back, This means that it is ready to rest. It's gone through a lot. It needs time to relax. So cover it with plastic. Leave it out on the counter for 1 hour to 2. If you're doing it overnight, just let it rest in the fridge for that long and then let it come back to room temperature.
Our dough rested for about two hours. I had a nice lunch and hung out with the kids. I wish you could feel it because it's totally different now. It's so much more relaxed. You're gonna wanna get a big pot out and add your vegetable oil or whatever you're frying in. Also, have your thermometer out and ready because we'll be using it when we start frying.
Now, your gonna divide my dough into two batches. It'll make it much easier to roll. If you have a pasta maker at home, this is a great time to use it because the pasta maker will give you really, really thin sheets. Let's lightly flour our surface just a little bit. And now we're gonna start rolling it out.
Cannoli dough can be a little bit frustrating just because it's stretchy. It's gonna be bouncing around here and there and you have to be kind of patient with it. I think the easiest way to roll this is into one long strip because we're gonna cut about three and a half to four-inch sized circles out of this dough.
Just make sure that your dough is wide enough and it totally is. It really like shrank back into an oblong shape. But that's okay because you will stretch it over the cannoli tube. It's gonna hold it in place. Dip your finger in the egg whites that you reserved and brush a little bit over the top and then overlap that. This is the glue that will hold your cannoli together. If it's not properly fixed to the form, you're gonna have basically like a papadum.
It's gonna be a little puffy circle pastry thing that's not useful at all for filling. These cannoli shells can be a little tricky so you really need things like the cannoli form to make them.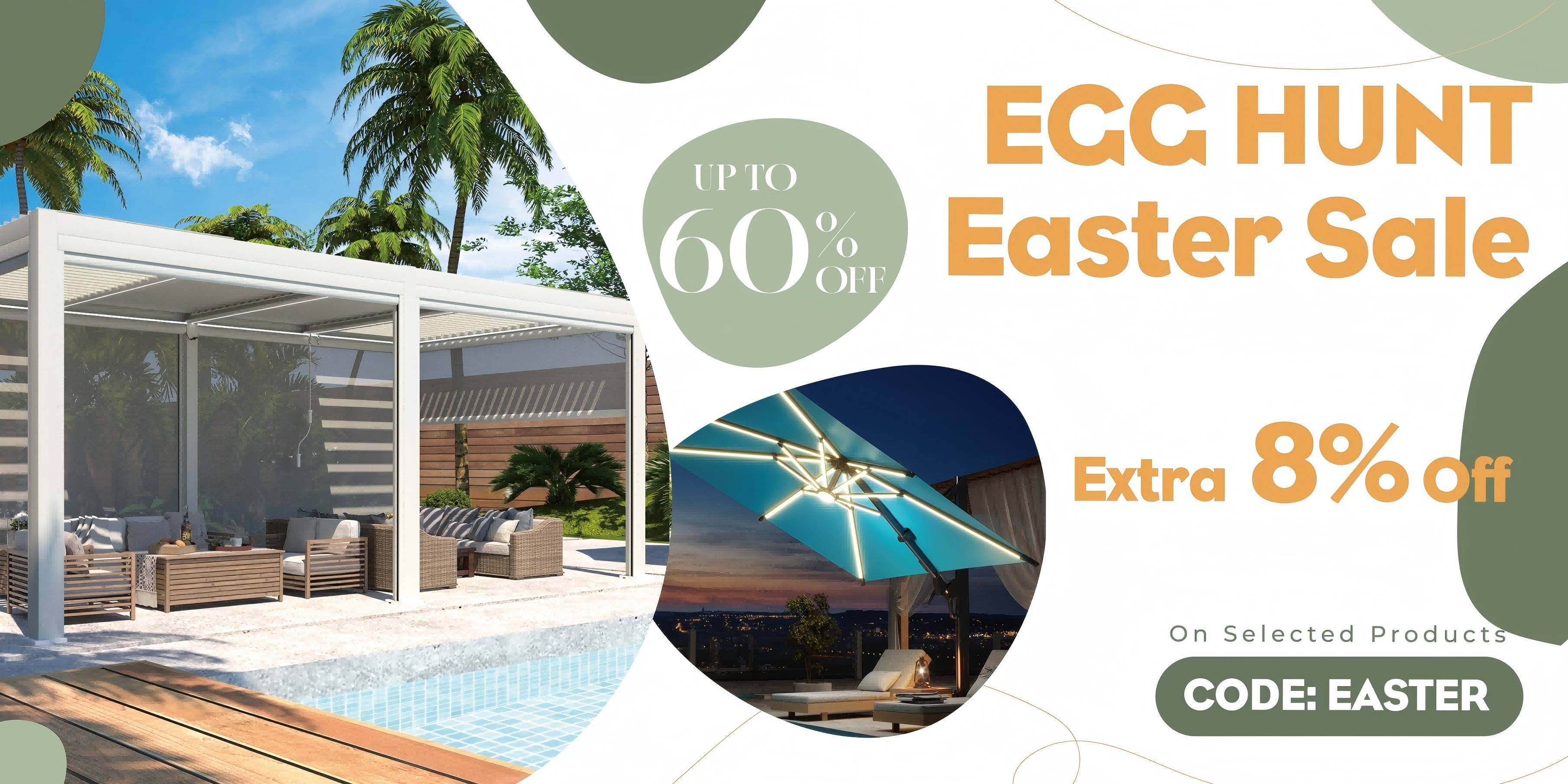 Join Our Email List For The Latest Updates!
No Spam Guaranteed
Free Shipping on all Erommy Outdoor Orders!
Shop Best-Selling Erommy Hardtop Gazebos!
Shop Backyard Patio Heaters at Erommy Outdoors
We are ready to have these deep-fried so let's check our oil temperature. Your oil should be over medium heat until it reaches 375 and then you're gonna baby it a little bit. So maybe decrease, maybe increase. As you add your cannoli in, it will drop the temperature. You can add up to six cannoli shells at a time, but unless you're an expert deep fryer, I do not suggest that.
I would go with groups of three. I love that right away, I can see all the bubbles forming and that is the signature look of a cannoli. Those little tiny bubbles add a lot of crispiness and to say hey, this is a delicious cannoli. They really don't need very much time at all to fry up. Maybe about a minute or so. Keep an eye on them. Move them around. And you're looking for a nice golden color.
Okay, once you have a golden brown color, drain some of that oil off. Place them onto a wire rack covered in paper towels. Now you don't want your cannoli to get stuck to the form. So either using oven mitts or a lot of paper towels and use the tongs to remove the form. My first batch is just about done. As you go off, just remove them from the form and place them onto your paper towels.
Now, as the cannoli are cooling, so let's get to the filling. you can make this two different ways.
And now, back to the ricotta you're gonna need to transfer the filtered water into a clean bowl. And to your strained 32-ounces of ricotta, add a little bit less than one cup of powdered sugar. Work it in. It's not gonna be light and fluffy. just mix the sugar in. and add 1Tsp of vanilla along with 1/4Tsp of cinnamon.
These are very traditional filling flavors and if you want, you could definitely make it your own by adding like brandy, rum. You don't have to use ricotta if you don't want to. You can use mascarpone. You could use a whipped cream filling. Anything you want. It's still gonna be delicious.
Once your mixture is smooth, you're ready to add the other components of your filling. I'm doing this two separate ways. So you're gonna reserve a little bit of the filling in a smaller bowl. If you're doing all one flavor, try adding in a third of a cup of chopped chocolate or chopped pistachios to start, and then go from there.
I love chocolate in any form, but for me personally, I feel like it can be a little powerful with the very subtle flavors of the ricotta and the grape juice and vinegar that comes through in the shells. So for me, it's gonna be the pistachios, and a traditional offering is also to add in candied fruits as well.
Now your cooled cannoli shells are ready to be filled, so go ahead and fill them the way through, and to finish them off just for a little flourish, you can either dip them in mini chocolate chips or some chopped chocolate.
The bubbles around are the signature look of the cannoli, and it melts in your mouth in a blaze of crunchiness
INGREDIENTS
Shells
1 3/4 cups (250g) unbleached all-purpose flour (scoop and level to measure)
1 1/2 Tbsp (18g) granulated sugar
1/4 tsp salt
3 Tbsp (43g) unsalted butter, diced into small pieces
1/3 cup grape juice and 1Tbsp of vinegar, then more grape juice as needed
1 large egg
1 egg white
Vegetable oil or shortening, for frying (about 8 cups)
Filling
32 oz. whole milk ricotta, strained
1 1/2 cups (180g) powdered sugar
3/4 cup (126g) mini chocolate chips
1/4 tsp ground cinnamon
Chopped unsalted pistachios, optional
INSTRUCTIONS:
For the Cannoli Shells
1 ) To a food processor add flour, sugar, and salt. Pulse in short bursts about 10 times. Add butter and pulse in short bursts just until there aren't clumps of butter.
2 ) Add in grape juice and whole egg. Pulse to mix well while adding additional grape juice to bring the dough together in a soft shaggy mass (you shouldn't need more than a few Tbsp extra grape juice).
3 ) Shape into a round, transfer to an oiled bowl. Cover and let rest at room temperature at least 30 minutes and up to 2 hours.
4 ) Heat a large pot with 1 1/2-inches vegetable oil to 345 – 355 degrees. Working with half the dough at a time (and keeping the other half covered in the bowl) roll the dough out very thinly onto a well-floured surface (nearly 1/16-inch).
5 ) Using a 3 1/2 to 4-inch cookie cutter, cut dough into rounds. Spray cannoli forms with cooking spray then wrap individual dough circles around each cannoli form, while brushing about 3/4-inch of one end lightly with egg white (use a pastry brush or just your fingertip).
6 ) Press edge to the opposite side. Using metal tongs, carefully immerse the shell in preheated oil and fry until golden brown and crisp, about 1 – 2 minutes (be sure to watch oil temp so the oil doesn't get too hot and burn shells. You can fry up to 6 at a time).
7 ) Remove from oil using metal tongs to grasp the cannoli shell (let oil from inside forms drain back into pot), transfer to paper towels to drain. Use metal tongs to hold mold (or folded layers of paper towels) and wrap a paper towel around the shell to carefully slide off of the form.
8 ) Let forms cool and repeat the process with the remaining dough circles. You can shake excess flour from scraps, press back together, cover in a bowl, and let relax for at least 10 minutes then reuse.
9 ) Allow to cool on a wire rack then fill with cannoli filling and decorate as desired (with melted chocolate on edges, chopped pistachios, mini chocolate chips or dust tops with powdered sugar).
For the Cannoli Filling
In a mixing bowl fold and stir together strained ricotta, powdered sugar, chocolate chips, and cinnamon. Transfer into a piping bag fitted with a large round tip. Pipe filling into cooled cannoli shells.
Notes
1/4 cup grape juice can be replaced with water and 1 Tbsp vinegar, then add more juice as needed.
I like to use a brand of ricotta that's not runny (such as Galbani), then I spread across paper towels, cover with more paper towels and press out some of the extra moisture and roll up, then unroll and drop into the bowl.
1 cup granulated sugar can be substituted for powdered sugar just be sure to stir enough to dissolve granulated sugar.
Cinnamon can be omitted or doubled. Different regions of Italy make cannoli differently so go with what you like. Orange zest, chopped maraschino cherries, or vanilla extract/vanilla bean can also be added to the filling.
CLICK ON THE NEXT BUTTON FOR MORE...!