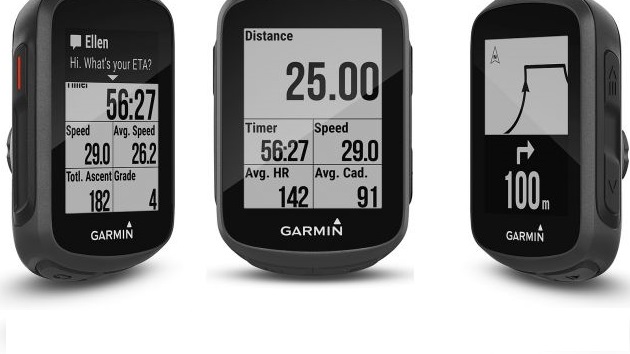 Edge 130 Review" what you can do with this device, and what you can't.
the Edge 130 is one of the Garmin's bike computer series. and if you're one of fans of these devices, and you've already experienced one of them, you'll see that this device is slightly smaller than some of other models, like the Edge520 and 820. but significantly larger than the Edge25. it has a 1.8 inch screen that is highly visible in sunlight, and low-light conditions, and has a 15 hour battery life.
the Edge130 comes equipped with GPS GLONASS, and Galileo satellites chips, for enhanced coverage worldwide. it is also compatible with speed, and cadence sensors power meters radar, smart lights, and has an internal altimeter. the Edge130 comes with a new setup process, which only takes a few minutes before getting connected the Garmin connect all of your sensors, and ready to ride.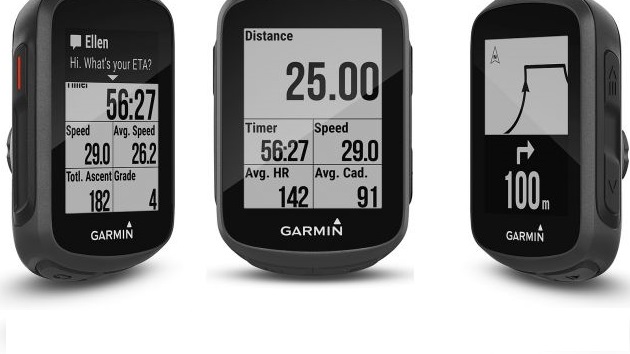 its button driven, and easy to navigate through the menus. it has a power on/off, and up down, forward, and back buttons when the UP button is held, your main menu or ride menu will pop up.
the Garmin Edge 130 allows you to mark locations, and add up to eight data fields per page. and select downloadable routes to follow. the forward button, is also your start/stop button while riding, and the back button will mark a lap the.
the Edge 130, is fully capable of tracking your cycling performance as well. in addition to speed cadence, distance, time altitude, and percent grade, it will also track vo2 Max estimation, and give us suggested recovery time after each ride. it also allows you to compete in Strava segments from the navigation perspective. the Edge 130 is limited compared to the Edge 824, and 1030, however it does allow the cyclist to download, and follow courses on the device.
you will receive turn notifications, and be able to review where you have ridden, if you get lost, or want to return to your starting point. the device has a bread crumb trail, and will navigate you back to your starting point. on the top of being a great bike computer that tracks, and improves your performance, the Edge 130 comes fully loaded with connected smartphone features. you'll receive smartphone notifications from your phone, to alert you of incoming calls, texts emails, and much more… weather conditions, and alerts are also available.
---
Related articles:
---
it also has live track, and while it does not have incident detection feature, some of the other devices do, it does allow the user to ask for assistance by sending the user's location to a preset list of emergency contacts. the Edge 130 is a great value for the unit by itself, but it's also offered in two separate bundles, the first bundle includes a speed, and cadence sensor. the second bundle is for mountain bike enthusiast, and includes a mountain bike mount, and an Edge remote.
the Edge 130 is a rugged easy to use compact gps cycling computer, that shows you how far, how fast, how hard, how high, and how to get back home. it helps you find your way with downloadable routes, and turn prompts. you can add cycling awareness features, when paired with barrio bike lights, and a rear-view radar.
HOW TO PLAN A COURSE ON EDGE 130 :
wherever you ride, Edge 130 tracks how far how fast, and even how high you've gone. introducing you some of the devices most helpful navigation features: you can use the course creator from Garmin connect, to easily plan and download courses for your next ride. these courses use a popular routing algorithm, so you'll be routed to the most popular cycling routes to get started access garmin connect on your desktop.
if you want to plan a course in detail, or make adjustments to an existing course, or if you want to import a course from a third-party platform like Strava, open the garmin connect mobile app, if your course is already created, or if you want to plan something on the fly; tap more then courses => tap the plus sign to create a new course, or the magnifying glass to search for one. when you're done creating a course, or if you found one you like, tap the icon in the top right corner to send the course to your device.
the course will transfer wirelessly to your Edge 130, and you'll be notified when the download is complete. then on your Edge, press and hold the button. on the top right side select navigation then courses you'll be able to see the map overview, as well as the elevation profile of the courses. on your Edge select one, then select ride as you ride you'll receive turn prompts at all key points along the course.
keep in mind you can assign a data field on your Edge, to show the distance until your next turn. that way you'll always know what's coming up next, also lets you navigate back to start at any point during your ride. just press the pause button, then select back to start then you'll select whether you want to head back to your starting point along the same route you've been riding, or simply in a straight line.
press the start button to resume your ride, the device will navigate you back to the starting point, wherever you ride, Edge 130 provides a helpful breadcrumb map. not only does its how you where to ride next, it also shows you where you've been. just press the button to scroll down through the page loop while you're riding, and if you go off course at any point, you'll get an alert on your Edge so you can quickly view the map, and find your way back.
Other Articles:
CLICK ON THE NEXT BUTTON FOR MORE...!