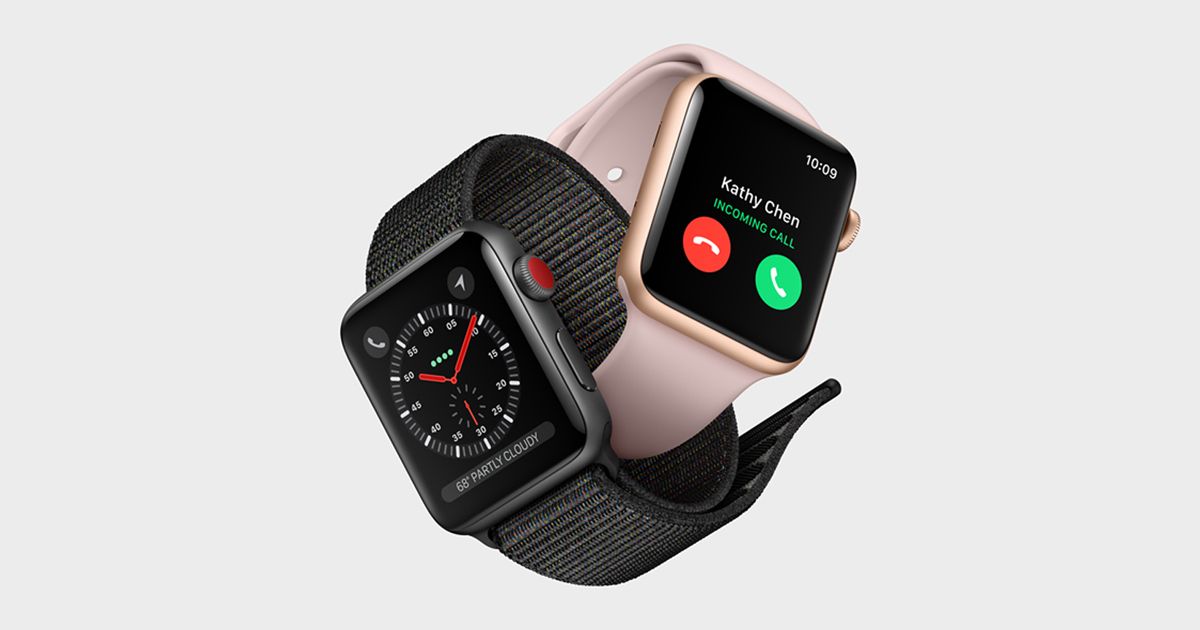 The apple-watch S3, is the Apple's first smartwatch that can be used entirely without your iPhone. It comes with a built-in LTE cellular connectivity, which allow to use it anywhere you wish.

covering everything you need to know from the design display for form ants only feature is battery life stellar connectivity and, so much more..
Even though, it's called the apple-watch S3, it's not Apples third generation smartwatch but it's actually apples fourth generation watch.
So, the first one was just called Apple watch, and was announced in 2014, and then released in 2015, then in 2016 Apple released two models the series one, and the series two, and in 2017 we have the series 3.
The series 3 comes in two models, there's a GPS only model, and a GPS plus cellular model, which is the one that we're going to review in this ARTICLE.
Apple Watch Series 3 (GPS + Cellular (Refurbished) "cheap Price ON AMAZON"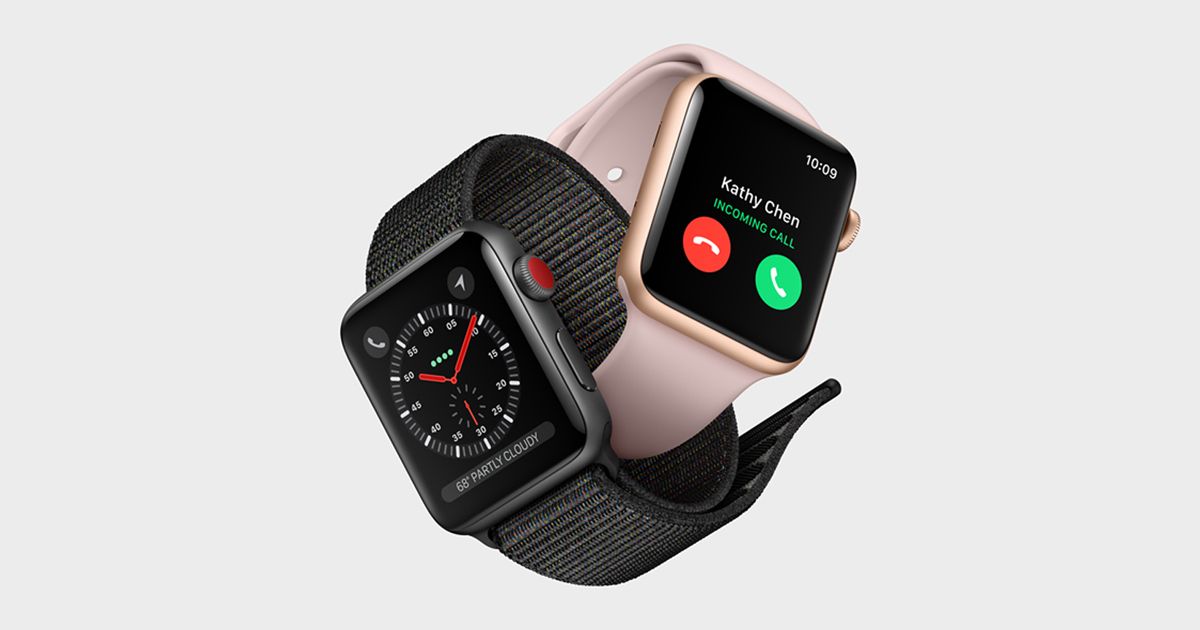 In my opinion, every new product from every company should come with three major changes from the previous model, that's like the marketing tactics of some companies, but not all of them.
1- The design changes: Obviously everyone wants fresh design with each new generation.
2- Performance: Enhancing the technical specs and performance is something that the users care about, because, they already know the first version and maybe the have some issues with it, like it slow down or the battery drains quickly. So, promising different specs always help the company to convince their costumers to buy the new one.
3- New Features: Obviously, the new model will attract people more if it has new features. Because, you'll pay extra money so would want to have different experience with your new watch.
Related Articles:
Note 9 specs and | deep review
Xperia1 Review A 21:9 Ratio SmartPhone For Netflix Lovers
So, starting out for number one we have five main design changes with the Apple watch series 3, even though the series 3 looks almost identical to the series 2, and series 1, and the original Apple from back, in 2015 there are actually 5 minor design changes in this model.
1- RED CROWN: The first one would be the red crown, now we only get this with GPS plus cellular models of the SERIES 3, not the GPS only models.
And the whole purpose of this, is to distinguish the models from the other ones and there's no functionality reason behind this red crown. now some people like it some don't, I personally don't.
I think it limits the use of certain watch bands, like the green ones or even the blue ones if you mainly use black or white bands, then this would actually look pretty nice but otherwise it would obviously depends on the band.
2- DESIGN BUILD MATERIAL:You can only get the stainless steel model or the Apple watch edition with the cellular models, which are a bit more expensive than last year. So, if you just want to get the GPS only model that one only comes in aluminum.
3- DESIGN THICKNESS: Even though the case of the watch has remained the same sensor bar on the bottom, is actually thicker now. So, Apple says that it's about 2 sheets of paper thicker, but honestly they were using some pretty thick sheets of paper to measure this"!.
Anyway, you won't notice this on your wrist, but from a design perspective, the Apple watch should be getting thinner, not thicker especially since it's already a fairly thick wearable.
4- THE BASE:This new watch base called the Explorer watch face, and this is by the way exclusive to the LTE Apple watch series 3. So, you don't have this on other Apple watch models, and when it comes to the font of course you can customize this further to your liking, and you can change the colors and add complications and so on…
5- EXTRA COMPATIBLE BANDS: Even though, this one applies to pretty much all Apple watch models, we do get a few new bands. So, we get a new band called sport loop, which I actually really love.  And you get this when you buy a new series 3 Apple watch.
You have the option together with another band, which made from the same nylon as the woven nylon band. it's actually one of the most comfortable Apple watch bands that I've ever used. it's right on pair with the letter ones, and it's also in credit light and it's also water-resistant.
Then you'll also get some brand-new colors for the existent watchbands, but the sport loop itself is definitely a welcome change.
So what about the performance apple-watch S3?
The Apple watch series 3 actually comes with a brand new Apple S3 processor, which is about 70% faster than S2 which came with the Apple watch series 2. And that one was already 50% faster than S1, which was inside the Apple watch series the original Apple watch. And the performance improvements are indeed quite noticeable, so apps do launch faster when compared to the series, 2 or 1.
I would definitely say that the biggest difference, is when it comes to third-party apps. So, any app that wasn't made by Apple, is quite a bit quicker on the series 3. Now Siri is also quicker when it comes to responding, and same applies to Homekit.
So, when you want to turn on or off your smart home accessories, the series 3 is quite a bit quicker than series 2 in doing this. And then when you swipe through different watch faces, this one feels so much more fluid now. And there was quite a bit of lag on a series 2, and then on the original Apple watch this one was even worse.
The first apple-watch S3 feature:
Moving on to the special features we got quite a few new features with a series 3, there are five new features to be precise. So, the first one is actually Siri.
So, Siri can now talk back previously with a Series 2 and series 1, and with the the first Apple watch when I asked her a question, Siri only displayed the results on the display.
But on the Apple watch series 3 it can actually talk back to you, this may seem like a pretty big improvement but it's not that much since you still have to raise your wrist and then you have to say hey" Siri in order for Siri to activate.
The apple-watch S3 second feature:
The second new feature is the barometer: it is a sensor inside the Apple watch that basically allows the Apple to measure the atmospheric pressure, and with this you can measure the altitude. So, for example: if you're climbing on a mountain and you don't have your iPhone with you, your Apple watch can still measure the elevation, and the altitude that you're at.
However, some of you may not know, but every single iPhone starting from the iPhone 6 all have the barometer included, so if you do have your iPhone with you this feature is pretty much useless.
Third new feature:
The third new feature is 16GB of on-board storage, which has now been increased from 8 gigabytes. However, you only get this with the GPS plus LTE model of the series 3 Apple watch, and the GPS only model still comes with 8GB of on-board storage.
The number four of the features:
We also get Bluetooth 4.2 up from 4.0, which is what the previous Apple watch had. and then we also get the Apple watch w2 chip. So, Wireless to chip from the w1 that we have inside a previous model, which means that connecting to your ear-pods is going to be faster, and syncing apps and updating the Apple watch through your iPhone is also going to be faster, and also it will consume less battery.
And then finally number 5:
The biggest new feature that came out with the Apple watch series 3, is LTE or cellular support. It relays on its built-in e-SIM to send and receive calls, but you need to activate it first and the activation is quite easy.
When you set up your Apple watch for the first time, you'll get a window. From that window you can activate LTE on your Apple watch. The setup process is really quick and this will cost you about 5-$10 per month in the US.
NOTE: and if your iPhones carrier supports the series 3 LTE model, by the way you'll find a list of all the countries and carriers that support it, and if you don't see your country or carrier on that list, that's fine because more would be added soon.
Few things that you definitely should consider: The first of them LTE will drain your battery like crazy, so if you don't have your iPhone with you, if you stream Apple music or you have a long phone call, your Apple watch battery will die really quickly.
The battery lasts for about one hour of continuous talk time when you don't have your iPhone with you, and up to four hours if you're doing workout with the Apple watch. Again, if you don't have your iPhone with you, and you're using GPS and LTE at the same time.
Aside from that, roaming is not supported on the Apple watch series 3 with LTE, it can only use this with LTE in your own country. So, it has limited cellular radios inside and you can only use it inside the country of purchase. If you go to a different country and a holiday you'll obviously have to take your iPhone with you.
I don't see it as a must have for all people, but if you're a runner and you go running every single day, then yes this is a great deal because you can leave your iPhone behind at home. But again that's only useful if you're the kind of runner that makes calls while you're running, because if you listen to music I'm not sure you'll need it too much.
But, you can already download and store up to around 6GB of songs on any Apple-watch model, so, you don't need the Apple S3 with LTE to listen to Apple music. The only difference is that with this one you can actually stream songs directly from Apple music instead of listening to the downloaded tracks only.
Now, let's say that you're not a runner, but you're a hiker you go on a camping trip and you want to take only your Apple watch with you and not the iPhone and maybe you want to take some photos, in that case you would need to take your iPhones. Because, you know this one doesn't have a camera, and if you still just take your Apple watch on a day long camping trip without your iPhone the battery won't last you for the full day. Especially, if you plan on doing workouts using the GPS or using LTE, the Apple watch will be dead in a few hours.
Additionally, you have to pay $10 a month for that. And by the way, you may already know this, but in case you need an internet connection on your Apple watch for whatever reason, you can already do this with any Apple watch model, and the other variants can automatically connect to known Wi-Fi networks.
***MORE ARTICLE TO READ:***
apple-watch S3 – FULL detailed Review
Best Smart Watch To Make Calls
best smartwatch to track sleep
SOME PROS AND CONS:
It does come with a fluid and rich user interface, it also comes with a ton of health features such as heart rate monitor that can measure your heartbeat, and heart-rate issue prevention, so, if you have any issues with a heart, or your heart rate if you have wracked irregularities the Apple watch will actually notify you of that.
A lots of fitness apps and workout options, you have lots of customization which you know the watch faces and you have a lot of bands to choose from even third-party bands, and lots of models to choose from different casing materials, different colors, and then you have a lots of apps. This is by far the biggest app store selection for any wearable of the Apple-watch.
Battery life is also amazing, so you can easily get through a full day of use with this thing even two days sometimes if you're not using LTE or GPS. Then it also comes with 50 meter water resistance, which is just crazy. It's waterproof so you can use it in the pool and I didn't test it in the ocean.
It also comes with swimming workouts, so you can track your swimming and transfer your progress. And on the top of all of this, it also comes with a really sharp OLED display, which can actually brighten up to a thousand mix of brightness which is crazy.
The negative side of apple-watch S3:
So, we have the same design as in the 2014 announcement, so no changes ever since 2014. Actually, we do get some changes in the thickness side, because, every single Apple watch model was thicker than the previous one. So, instead of the thickness improving it actually getting worse because they're getting thicker and thicker.
" New And BuyNow Price" Apple Watch Series 3 (GPS + Cellular LTE)
Apple Watch Series 3 (GPS + Cellular (Refurbished) "cheap Price"
Other articles:
What's the best cheap smart watch?