These deep-fried mushrooms turned out crispy on the outside but loaded with juiciness and spices. They really turned out great and they cook so fast that you could wait until your guests arrive at your tailgating party and still have a piping hot batch of deep-fried mushrooms before they've even gotten settled in.
Now before starting the cooking instructions here are some quick notes for the best deep-fried mushrooms possible: If the stalks are fairly long give them a little trim, but otherwise, I usually keep them intact. Mushrooms are also notorious for being dirty, so it's important to clean them before marinating. I recommend doing this with a damp cloth. Don't rinse them or they suck up a tonne of water, and mushrooms already contain a hefty amount of water.
Panko breadcrumbs are great because they're big, light, and airy. This means the mushrooms come out extra crispy. You'll find Panko in the Asian section of most stores, but if for whatever reason you can't get your hands on them just use regular dry breadcrumbs.
Now If you're not confident with deep-frying just test one mushroom at the start. This recipe is perfect for beginners as there's no pressure to cook through any meat or anything. Just make sure you use an oil with a high smoking point (canola, rapeseed, vegetable, sunflower, etc). NOT Olive Oil.
Some Recommended Products:
INGREDIENTS:
Breaded Mushrooms:
10.5oz / 300g Button Mushrooms, cleaned & excess stalk chopped off if necessary (see notes)
2 heaped tbsp Plain/All-Purpose Flour
1 Egg, beaten
1 cup / 60g Panko Breadcrumbs (see notes)
3-4cups / 750ml-1litre Vegetable Oil (or oil suitable for deep frying)
Salt & Black Pepper, to taste
Marinade
3-4 sprigs of Thyme
2 tbsp All Purpose Soy Sauce (not dark)
1 tbsp Worcestershire Sauce
1 tbsp Balsamic Vinegar
1 tsp Garlic Powder
1/2 tsp Salt
1/4 tsp Black Pepper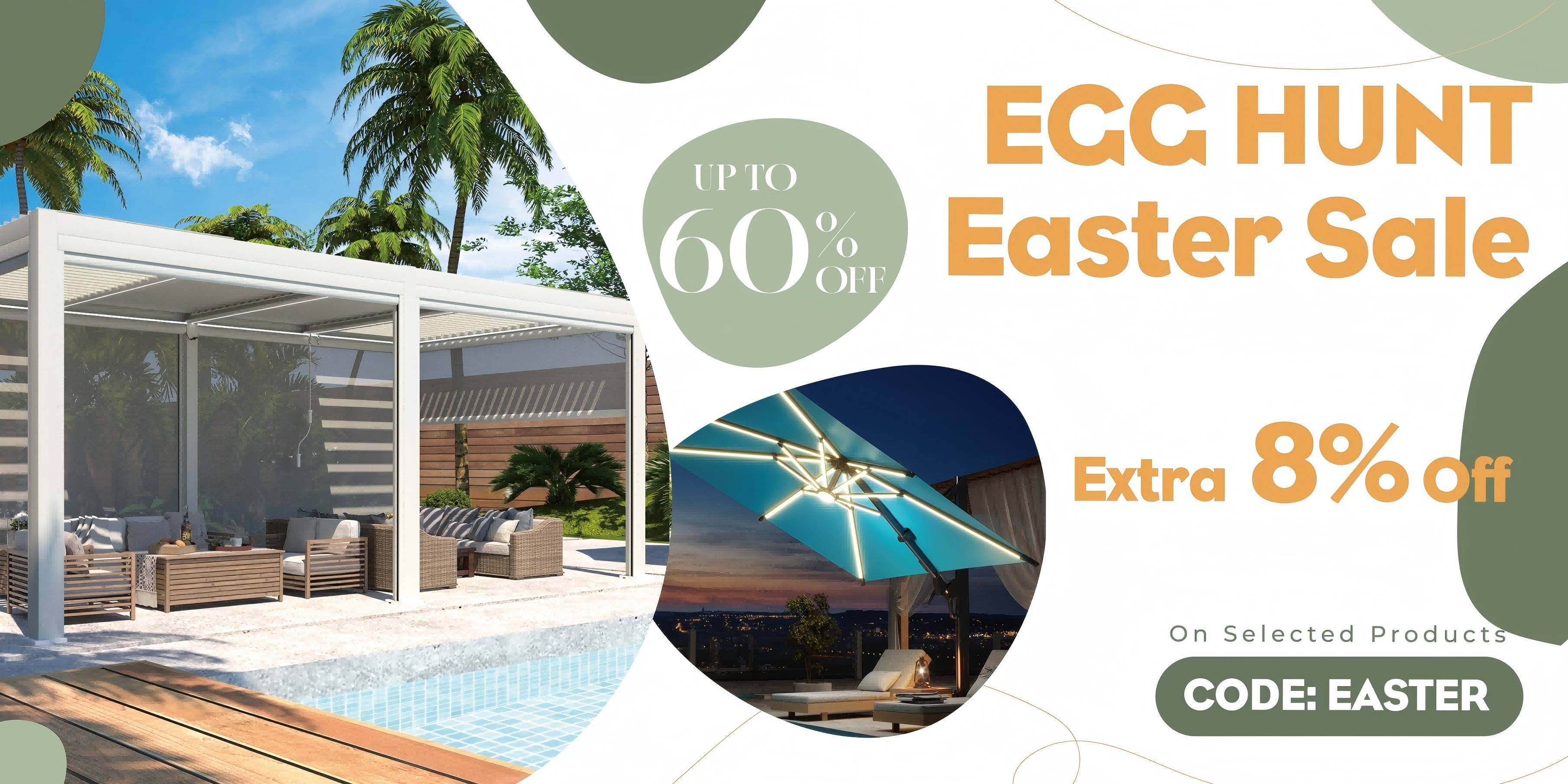 Join Our Email List For The Latest Updates!
No Spam Guaranteed
Free Shipping on all Erommy Outdoor Orders!
Shop Best-Selling Erommy Hardtop Gazebos!
Shop Backyard Patio Heaters at Erommy Outdoors
INSTRUCTIONS:
1 ) In a zip lock bag add 2 tbsp soy sauce, 1 tbsp Worcestershire sauce and balsamic vinegar, 1 tsp garlic powder, 1/2 tsp salt, and 1/4 tsp black pepper. Give it a stir with a fork to blend, then add in your mushrooms and thyme. Zip the bag shut and give it a good swish around with your hands.
2 ) Leave to marinate for 30mins – 1hour, shaking about every now and then to distribute the marinade properly. Careful, the mushrooms will shrink considerably (due to salt/vinegar) if lest for a long period of time, so just keep an eye on them.
3 ) Set up 3 bowls: 1st is your flour with a pinch of salt and pepper, 2nd is your beaten egg and 3rd is your Panko with a pinch of salt and pepper.
4 ) Take a few mushrooms, shake off the marinade then pop in the flour, then egg and finish in the breadcrumbs. Really ensure you fully coat each mushroom at each stage, especially the last one (Panko). Repeat with all mushrooms.
5 ) Heat up oil in a deep pot/pan to 180C/356F. In batches carefully lower the mushrooms into the oil on a slotted spoon. Allow frying for 2-3mins, or until nicely golden. Stir them about a bit to ensure they get an even fry. Carefully remove with a slotted spoon and place on a cooling rack with paper towels underneath (don't place directly on paper towels or they steam and go soggy). Enjoy…
Check the links below for more amazing recipes like this:
CLICK ON THE NEXT BUTTON FOR MORE...!