Hi', everyone! Today we're gonna take a look at, the Huawei watch 2 classic edition and I'm gonna let you know what are the basic features that specify this smartwatch from other android wear in the market, so let's get right to it..
first things it does fit under a sleeve without any problem it's not super thick, so it does not stick out from your sleeve like the LG watch sport does. it has is a nice slimmer tight profile. I'm not gonna call this slim, but it's definitely on the slimmer side, so the one we wants to classic edition, will run you about 300 bucks there is a Sport Edition, which has a completely different design, and that'll run you about $180 these days but let me go over. the specs. really quickly, and then we can get into the review.
     some technical specifications:
It does have the Snapdragon 2100 processor in, it has fou gigabytes of internal storage, 768 megabytes of RAM, and it also has a 420 milliAmp. hour battery. not to mention your usual sensors, so you do have the heart rate monitor on the back. you also have NFC for payments, and then you have your Bluetooth Wi-Fi GPS also built into.
Huawei watch 2 classic edition it does come in with, either a brown edition or black edition. and that's just the watchband the actual titanium watch will be the same it just will ship with a different style band. and this band that it comes with is a hybrid style, so on the back you do see, that you do have that silicon material, but on the front you do have genuine leather. and I think that's a really nice design, this way all those sweat marks, and those nasty stains, that come from wearing a lot of band after a while will not appear on this.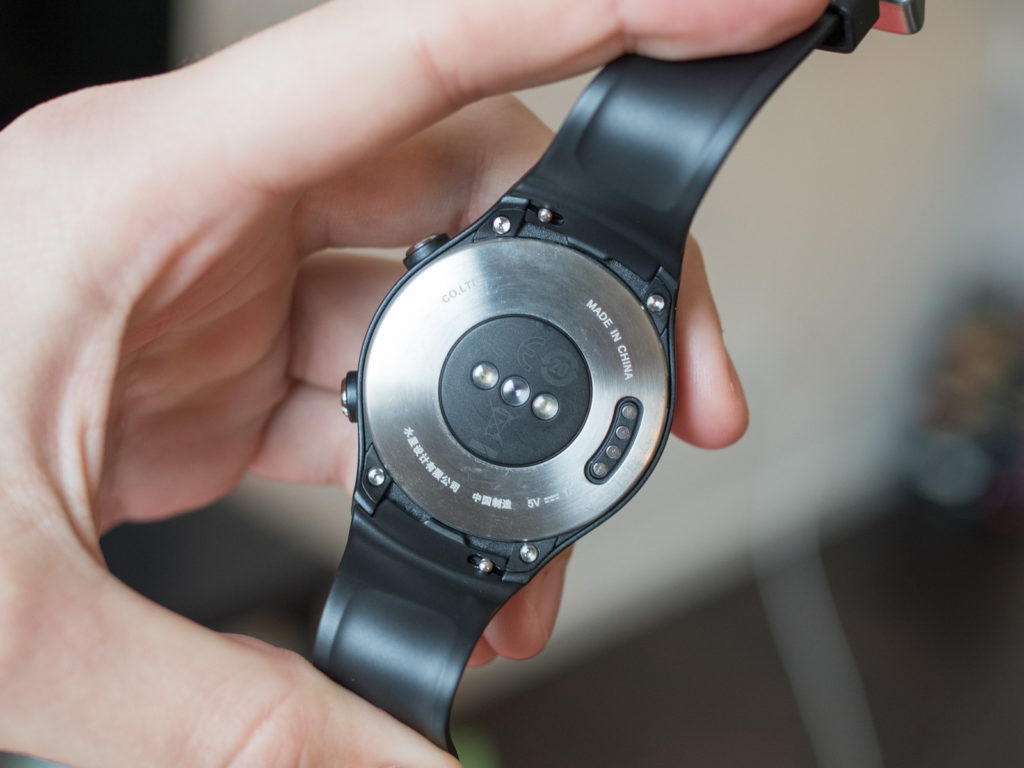 It is pretty comfortable, really nice to wear it also has a quick-release pins, so you can swap these out for any 22 millimeter style band that you like, and then on the actual buckle, there you do see that it says Huawei so that's really nice. definitely those little things make you think premium, when you're looking at a SmartWatch such as this one. but the great thing about this watch, is it does use standard 22 millimeter lugs. so you can swap these out for just about any band that you want.
And looking at the overall design of the watch, I do think that it's very reminiscent of the LG watch R which also debuted with these markings on the outside. at first I thought it was a little cheesy, but it really doesn't bother me. you just have to decide which watch face you'd like to use, because some watch faces have these markings built in, and you don't want to use that one, that kind of looks stupid.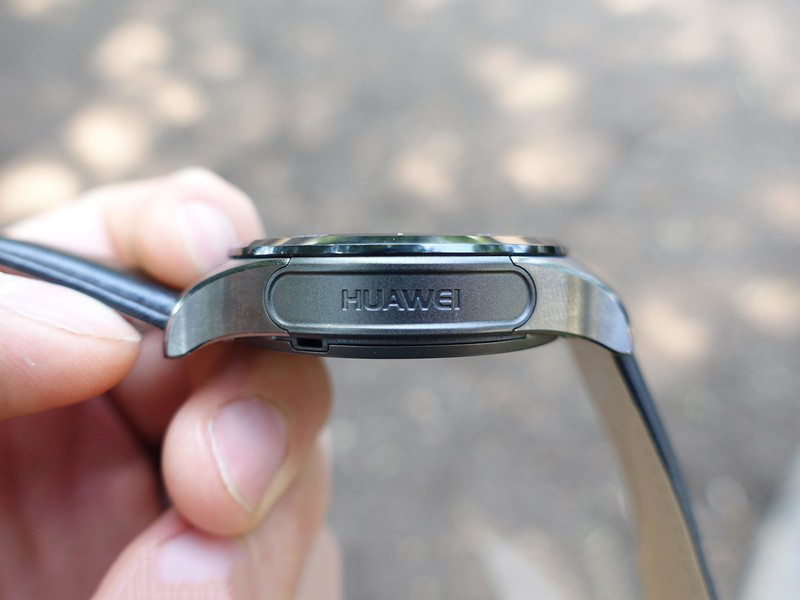 but on the left side you have this Huawei branding which I also think is kind of dumb, it's very cheesy looking and this is plastic whereas the rest of the watch is metal, so I don't know why they decided to do that. it would have been nicer maybe if they just etched Huawei on the side, if they really have to put their branding on it. but this also could be for the sensors, I really don't know''.
looking on the right side of the watch, you do have two programmable buttons. that I will get into a bit later on but overall, I think the watch is pretty stylish and the screen is a 1.2 inch. AMOLED panel so it is a little on the smaller side, which is what turned me off from the swatch in the beginning, but I actually got used to it, and I don't think you need something much bigger, because battery life is dependent upon the size of the screen. So battery life on this has been really good talking about Android wear statistics, not about any other statistics you might have. 
so far the best SmartWatch that I've encountered, is the gear s3 running Tizen software that's definitely great, but this one definitely comes really close to that.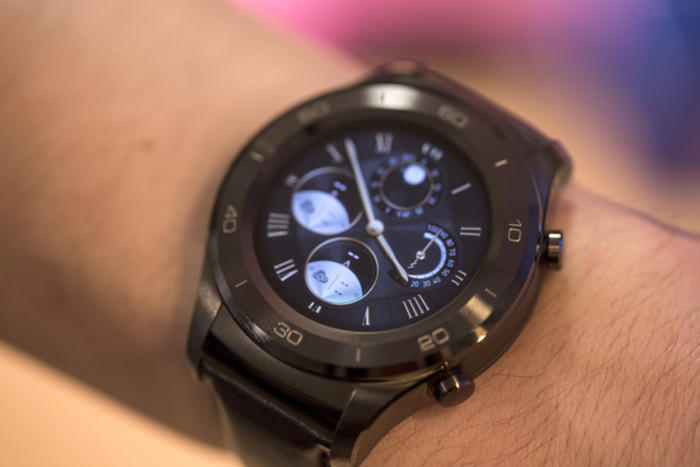 Notifications, and alarms:
if you have tons of Facebook notifications and whatsapp notes, and you choose to have those come to your watch, your battery life will vary but for the average consumer, this definitely will last you I have no doubt in my mind at least a day and a half, and just to mention how much I really think battery life is great. speaking of battery life another great feature of this watch is it has a watch only mode, so that also made me think you know what I don't have to worry about my charger worst case scenario, I can just turn on watch only mode, and make it through the whole month if I need to.
so to get to watch only mode, and it is what it sounds like it will turn your watch into a watch. so what I mean by that it turns off all smart features, and basically gives you the time and your pedometer. so your steps will still be counted in this mode which i think is Great. 50% at smartwatch mode will last you around 10 hours, but at watch only mode, it could be 15 days battery life.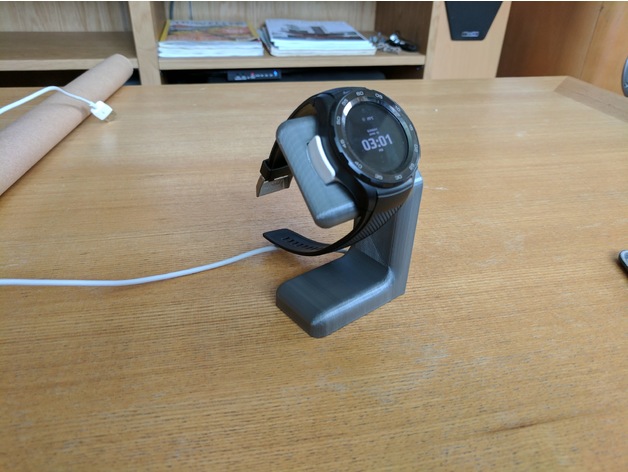 I do want to mention, that Huawei watch 2 classic edition does not have wireless charging, and at this price point I think that's a bad move on huawei's point. I think that they really should have included wireless charging. that's what mostly everyone's doing, and that's what we expect at this price range and for this smartwatch.
but instead they do offer this Pogostyle connection, and it's basically the same, as what was in their other watches, but the magnet is definitely stronger. and it does have guides on the side, to ensure the watch will not slip out while it's charging. and the magnet is pretty strong. that's the end of this review, I hope it was helpful for you, and if it's please share it with your friends to make them know about, by doing this you'll also participate on spreading info. thanks for being here, and make sure to check the link below for more reviews like this one.
Other articles: